At the onset of Russia's full-scale invasion of Ukraine, the richest Ukrainian businessman, Rinat Akhmetov, promised to help the country in every way to stop Russian military aggression. RBC-Ukraine looks at the real help Ukraine has received from Mr Akhmetov and his businesses over the seven months of the war.
Business losses
Rinat Akhmetov's key assets are based in the east and south of Ukraine. Since the beginning of the war, he has lost two thirds of his fortune, including steel, energy and agricultural assets.
Mariupol-based Azovstal and Ilyich Iron and Steel Works were the backbone of Akhmetov's steel business. Other steel companies, Zaporizhstal and Kametstal, had to curtail production significantly.
DTEK has lost 70% of green generation (some green stations have been destroyed, and some are based in temporarily occupied areas) and 30% of thermal generation.
Overall, the invaders have destroyed, occupied or damaged about 70 companies owned by Rinat Akhmetov.
However, this is a rough estimate of losses: Rinat Akhmetov's SCM investment group says it is impossible to make an assessment of all losses, in particular, because the assets in the temporarily occupied areas can't be accessed. Yet, the total amount can reach tens of billions of US dollars.
Despite these significant losses, the military contribution of Rinat Akhmetov's businesses is believed to be unmatched by any other businesses in terms of financial and material support.
Steelmakers produce bulletproof vests and portable sheds
Since the outbreak of the all-out war, Metinvest has switched to production of military anti-tank and anti-landing hedgehogs, as well as studded chains against wheeled vehicles, which the company then ships to the front line.
Later, they continued their war efforts: when Ukraine faced a shortage of body armour for the military in spring, Metinvest developed a one-of-a-kind steel alloy to produce armour plates. Akhmetov's experts developed a technology for smelting, pressure shaping, cutting and heat processing of finished plates. Armoured plates made of Metinvest steel were tried, tested, certified and immediately given out to the military, territorial defenders, and other Ukrainian security forces. The first batch alone contained 90,000 plates.
The latest development of Metinvest's specialists is prefabricated dugouts or portable steel war shelters for Ukrainian defenders, notes Bloomberg. These are special shelters for strengthening trenches that can be used as a full-fledged field accommodation. They have recreation areas for the soldiers and minimum necessary arrangements for the daily life, places for potbelly stoves and openings for pipes, drains for water, and an emergency exit with a ladder.
The metal structures are designed to be assembled after delivery, with no cargo cranes needed. The capsules can withstand hits from 150-millimeter shells once buried 1.5 meters under the ground, and one such shelter costs about UAH 200,000 ($5,450). Like all other equipment and protective gear, Metinvest delivers the shelters to the military free of charge.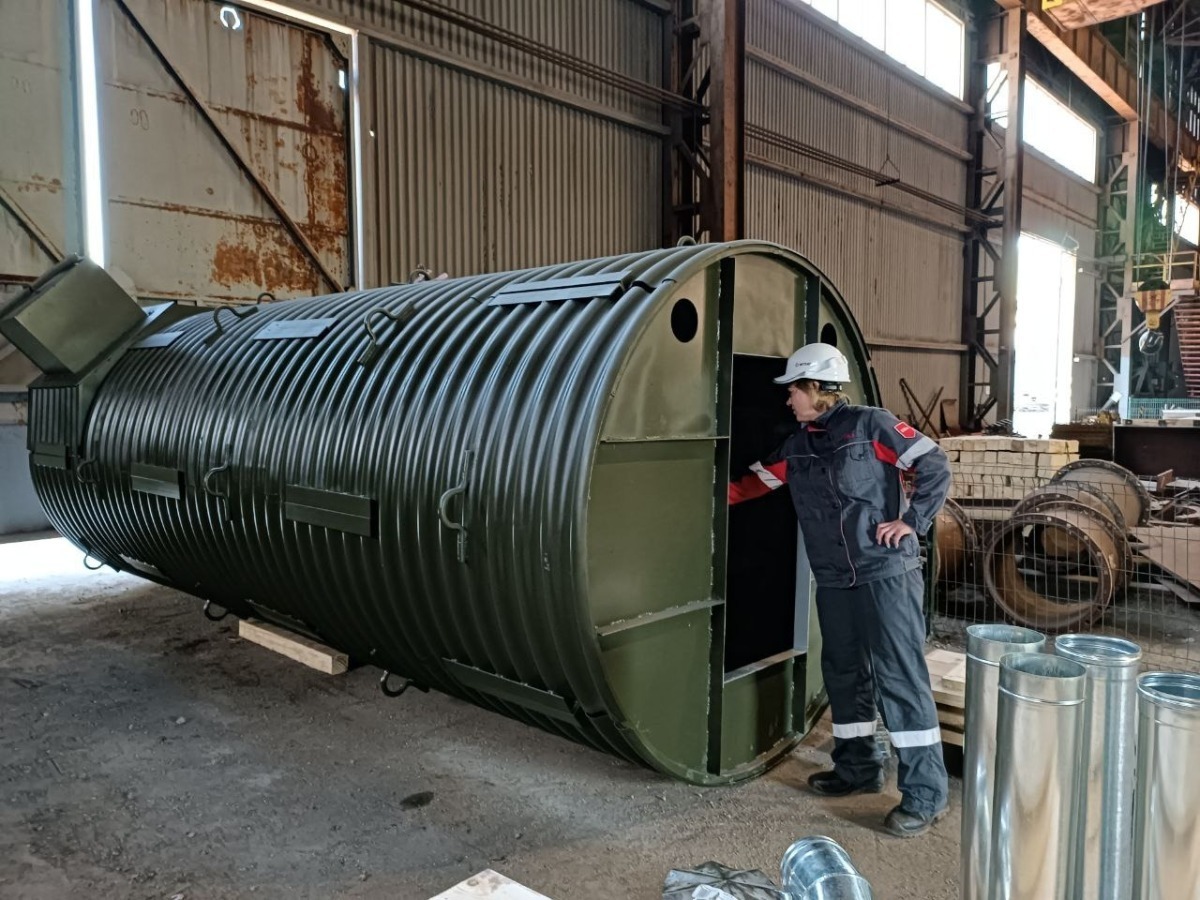 Also, the company has handed over the first six tonnes of steel products for Ukrtransgaz. This metal has been used to make the first batch of products – 80 turbo stoves, 170 grappling hooks for remote demining of territories, and 120 mini stoves. Ukrtransgaz specialists plan to produce 5,000 products from Metinvest's steel.
Yet, Metinvest is doing more than just meeting the front needs. The company has spent more than UAH 1.9 billion on military assistance and support for civilians over the past six months of the war. In addition, Metinvest purchases cars, drones, emergency military tourniquets, and first-aid kits. It has provided about 3,000 tonnes of sand and gravel, 2,400 reinforced concrete blocks and slabs to arrange checkpoints and strengthen social infrastructure facilities, and given out metal for mobile mini-bastions and other defence structures.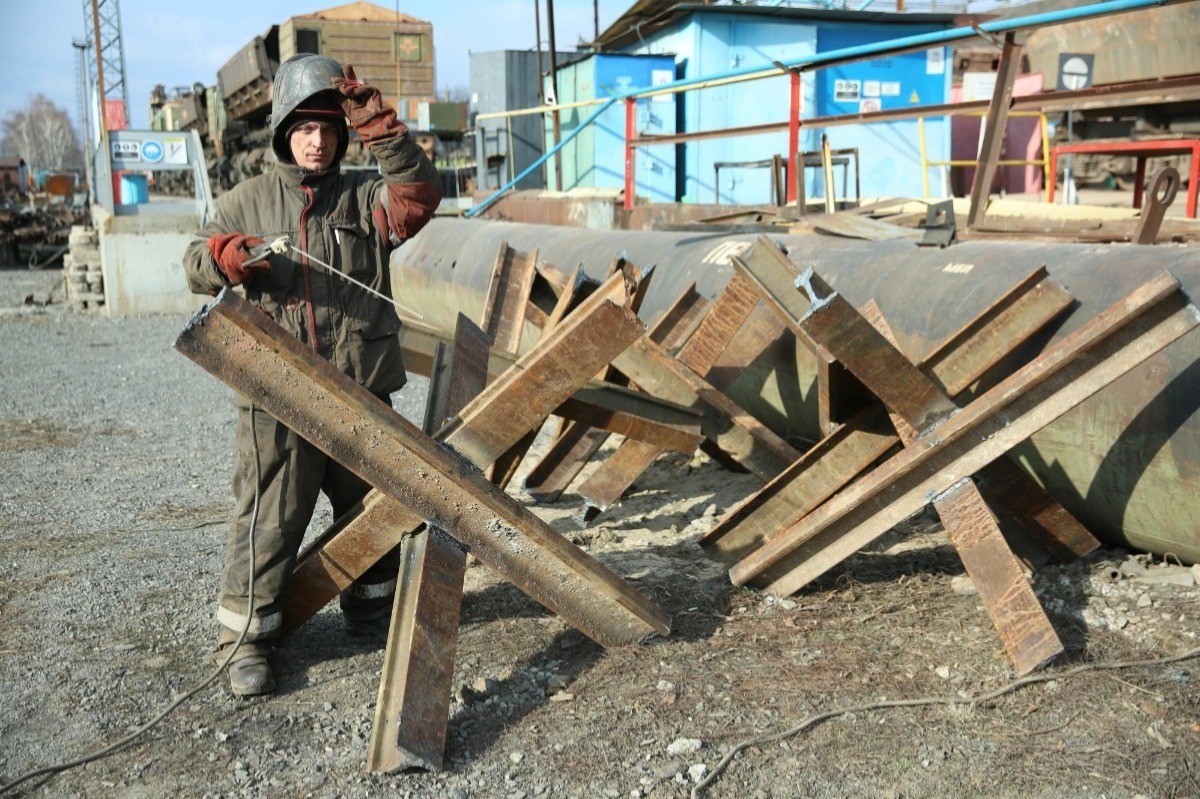 Metinvest has also handed over 300 drones worth more than $1.4 million to the Ground Forces and Main Intelligence Directorate.
"The drones are equipped with thermal imagers and optical zoom cameras, which enables to track enemy equipment and manpower even at night. They have spare batteries, the range is 10 km and the maximum flight time is approximately 40 minutes per battery," said the Company.
In addition, Metinvest supports civilians and IDPs, including those from Mariupol. Akhmetov's businesses are focused on the assistance to the army. For more information about assistance to civilians see the company's reports.
DTEK: power restoration and free electricity supply
Since the war's outbreak Ukrainian power engineers literally found themselves on the front line of the battle. They had to (and still have to) restore the damaged infrastructure directly under shelling, staying very close to the front-line, being exposed to shelling and risking their lives. Following the liberation of Kyiv Oblast DTEK power engineers restored electricity to the entire region within 45 days. In many towns and cities they had to rebuild the power networks from scratch rather than repair them.
Over six months of the war DTEK has returned power to 3.8 million households in Kyiv and four Ukrainian regions. In September, the Russian focused on destroying the energy infrastructure of Ukraine. Despite this, DTEK power engineers work hard to promptly restore electricity supply in the cities, towns, and villages.
After the power plants in Kharkiv and Dnipropetrovsk oblasts were hit by a Russian missile strike, causing widespread blackouts in five regions of Ukraine, Rinat Akhmetov and DTEK Group decided to start helping restore electricity supply all over Ukraine, even in the regions not covered by DTEK power grid.
In addition to power lines, Russia keeps shelling DTEK thermal power plants in the eastern and central parts of Ukraine. Detailed information on the missile strikes is not disclosed for security reasons.
Since the outbreak of the war, DTEK Group has supplied free electricity worth more than UAH 178 million to medical and military facilities in Kyiv, Dnipropetrovsk and Donetsk oblasts.
DTEK provided free electricity to critical infrastructure facilities: public and municipal hospitals, military and enforcement facilities (over five months, critical infrastructure has consumed 31.57 million GWh). Overall, more than 100 medical and military facilities receive free electricity from DTEK, in particular, Mechnikov Clinical Hospital in Dnipro, Children's Hospital in Dnipro, Kyiv City Hospital No.8, and others. Wounded Ukrainian soldiers are taken to all these hospitals.
"In wartime, our company operates accordingly. Now our utmost goal is to help Ukrainians survive and withstand," stated Rinat Akhmetov.
Looking at the support provided by major Ukrainian businessmen it's right to say that Rinat Akhmetov and his "steel front" provide the biggest and most significant assistance to Ukrainian defenders.
He pays money from his own pocket, while most businessmen (even from Forbes top list) create crowd-funding platforms to raise money for defenders. For example, this approach is used by Viktor Pinchuk's Revival of Dnipro and Dnipropetrovsk Region Foundation, Mhp-Hromadi Foundation of Yuriy Kosyuk. The Rinat Akhmetov Foundation and his businesses do not collect funds but rather use own funds and resources to help.
Thus, despite significant losses incurred by Rinat Akhmetov as a result of war, he has provided UAH 3 billion in aid (or $100 million) to help Ukrainian people and defenders of Ukraine.